Red Byrd
Red Byrd believe that the point of singing the music of the past is to illuminate the present, and take every opportunity to present new music. Its constant members are John Potter and Richard Wistreich. Stephen Johnson and Jason Darnell join them for music by the Notre Dame composers Leoninus and Perotinus, and for works commissioned by the group from Nigel Osborne and John Surman. Anna Maria Friman joins John and Richard, as in the photo, for English and Italian music from around 1600, and for Gavin Bryars' Third Book of Madrigals - settings of JM Synge's translations of sonnets by Petrarch. Red Byrd have visited a dozen other countries - Canada, the USA, Ireland, France, Spain, Portugal, Belgium, the Netherlands, Germany, Austria, Italy and Finland - and record for Hyperion. The group's BBC Radio 3 broadcasts have ranged from Landini via Palestrina, Dowland, Byrd and Purcell to Thea Musgrave.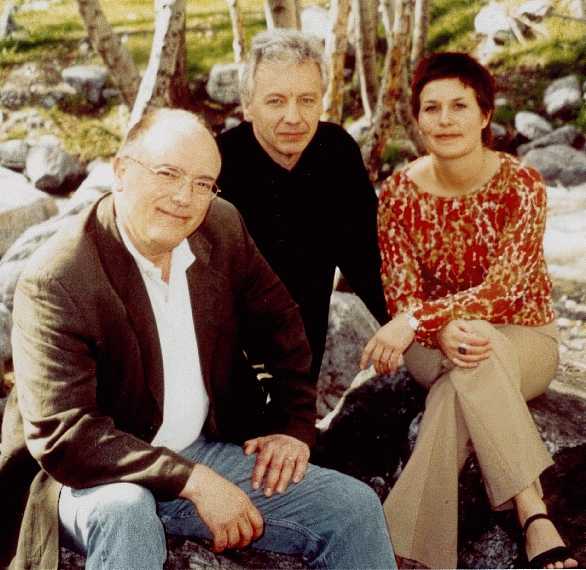 ---
Red Byrd discography:
A Scottish Lady Mass: Sacred Music from Medieval St. Andrews
Hyperion 27299 (2005) - FAQ link
Magister Leoninus: Sacred Music from 12th century Paris
Hyperion CDA 66944 - FAQ link
Magister Leoninus II
Hyperion CDA 67289 - FAQ link
Tomkins: Consort Music
Naxos 8.550602 (1995) - FAQ link
Gibbons: Songs & Anthems
Naxos 8.550603 (1994) - FAQ link
Byrd: Songs & Anthems
Naxos 8.550604 (1994) - FAQ link
(also Naxos sampler Classic CD 14)
New fashions: Cries & Ballads
CRD 3487 (1992)
Elizabethan Christmas anthems
Saydisc CD-SAR 46 (1990) - FAQ link
Morley: Joyne Hands
Virgin VC 7 91214-2 (1991)
Monteverdi: Balli & dramatic madrigals
Hyperion CDA 66475 (1991) ; Reissued: Hyperion "Helios" CDH 55165
Blow: Awake My Lyre
Hyperion CDA 66658 (1993)
Purcell: Hark how the wild musicians sing
Hyperion CDA 66750 (1994)
Ivan Moody: Passion & Resurrection
Hyperion CDA 66999 (1997)
Songs of Love & Death
Factory FAC 336 (1990)
Gibbons: Cries and Fancies
Virgin VC 7 90849-2 (1989) - FAQ link
---
See also Red Byrd page by John Potter.
Information provided by:
John Potter <jpotter@redbyrd.demon.co.uk>
Richard Wistreich <richardwistreich@ntlworld.com>
Robert White Artistic Management <RWhiteAM@aol.com>
---
The CD links above are to the Early Music FAQ and therefore editorially separate.